Smart casual - How to integrate jeans into 6+ new combinations
17.08.2018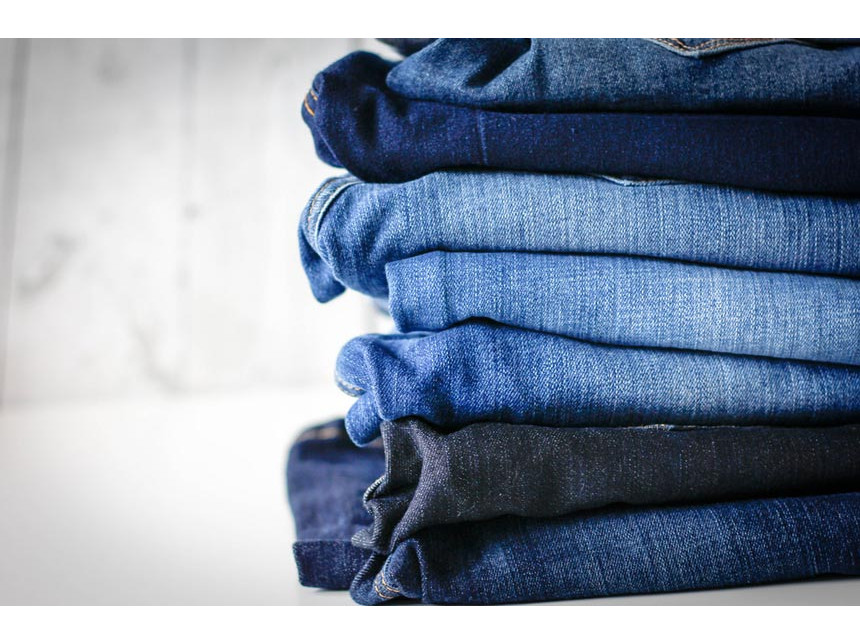 Of the dozens of styles, the smart-casual style enjoys a lot of popularity, and it is no wonder if we look at the combinations of clothes it relies upon. Smart-casual style allows you to go to the office and then to a party without having to choose another outfit!
What does it mean smart-casual? Top 3 Basic Garments
Smart-casual is defined by the merging of two styles of clothing: on the one hand, it is a matter of borrowed elements of office style, on the other hand we have a street style that together leads to some very exciting and practical outsites. Business-elegant, but with a slight touch - this is the essence of everyday life that we can carry on different occasions and are suitable for everyone regardless of personality. Still, the smart-casual style can be quite tricky, so we present to you the most important 3 basic items of clothing to reach such an outsider:
1. Jeans - the most beloved clothing, jeans are distinguished by its versatility. Regardless of how bright or colorful it seems to remain fashionable regardless of the season. There is no need to invest in a pair of jeans, because you can find many interesting models of cheap jeans.
2. T-shirts - as much as possible and, if possible, as simple as possible! T-shirts have a well-deserved place in the top of the basic garments needed to create the elegant-careless outfit. Depending on the model and the cut, they can be worn with jeans, skirts or elegant trousers that represent those clothes, giving light air to the outsite.
3. Jackets / Coats - jacket / coat is another "must-have" (a must-have thing when it comes to the creation of the unobtrusive outfits). Our suggestion is to choose jackets / coats that are not very demanding either in terms of material or design to ensure easy maintenance and integration into various combinations of clothing.
Ideas for smart-casual outfits for women
Smart-casual style is suitable for both men's wardrobe and women's wardrobe. For them we offer 4 easy to achieve and very chic combinations!
#1. Bet on tight jeans, preferably in light color. Match them with a white blouse with a gray jacket and a pair of stilleto silver shoes!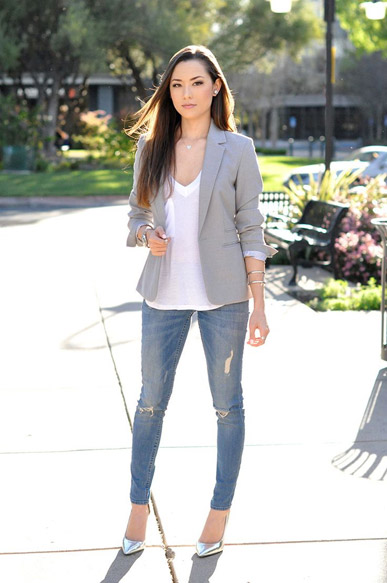 #2. Do you want an outfit that you can wear as well as in the school as well as during a walk with the girls in the mall? Wear them with a pair of electric boots, a free shirt and a plain white top! Fill the whole outfit with a pair of glasses and get ready for a new day!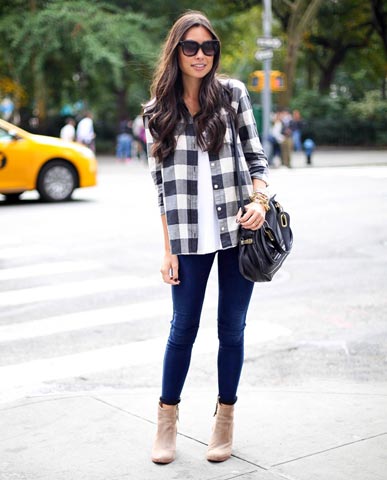 #3. Do you want an smart-casual outfit like cool air? We offer this combination in which the surprising element is the leather jacket. You will undoubtedly make a furore, carrying such an outfit!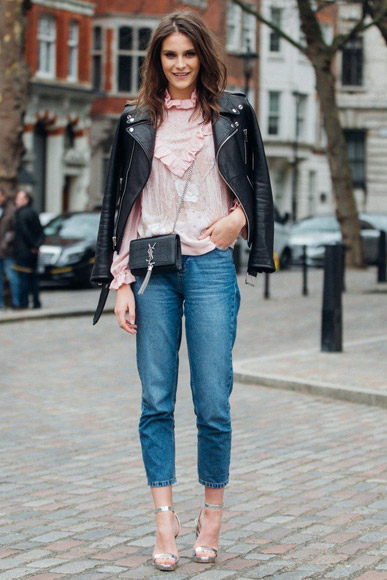 Ideas for smart-casual outfits for men
Starting from a simple pair of jeans, we can start creating an extremely fashionable smart-casual outfit. Here are the ideas:
#1: White shirt, a pair of moccasins, classic jeans and minimal accessories - these are the items you need to create one of the modern men's clothing combinations. Inspired by the picture below!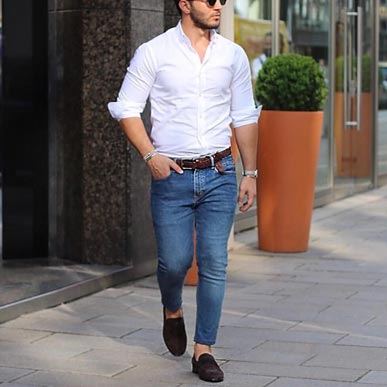 #2: This time we offer you an extraordinary bold, elegant, careless outfit that has a denim for a central element. Jeans are the star in this combination because they are highlighted by the whiteness of the other component elements.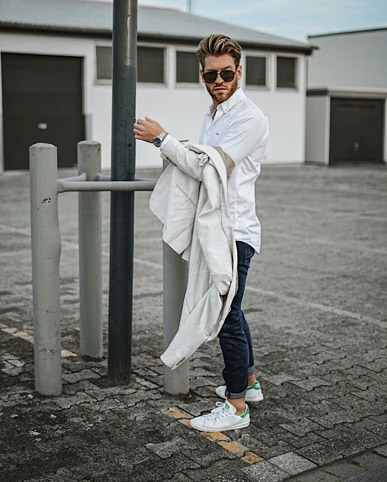 #3: Smart-casual outfit that can be worn in any season can consist of several basic clothes from each man's wardrobe. In particular, combining a pair of classic jeans, a plain jersey, a jacket and a pair of casual shoes, you get an outfit that you can wear not only in the office, but also in a meeting or a walk with the boys!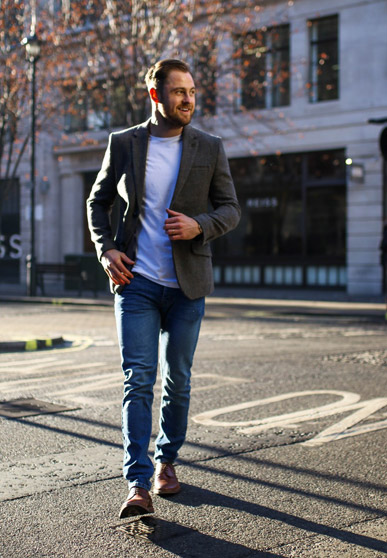 For even more ideas for elegant-careless outfits, we invite you to find the articles on our blog! Rediscover yourself with Fashion Mix!
« Back to all articles